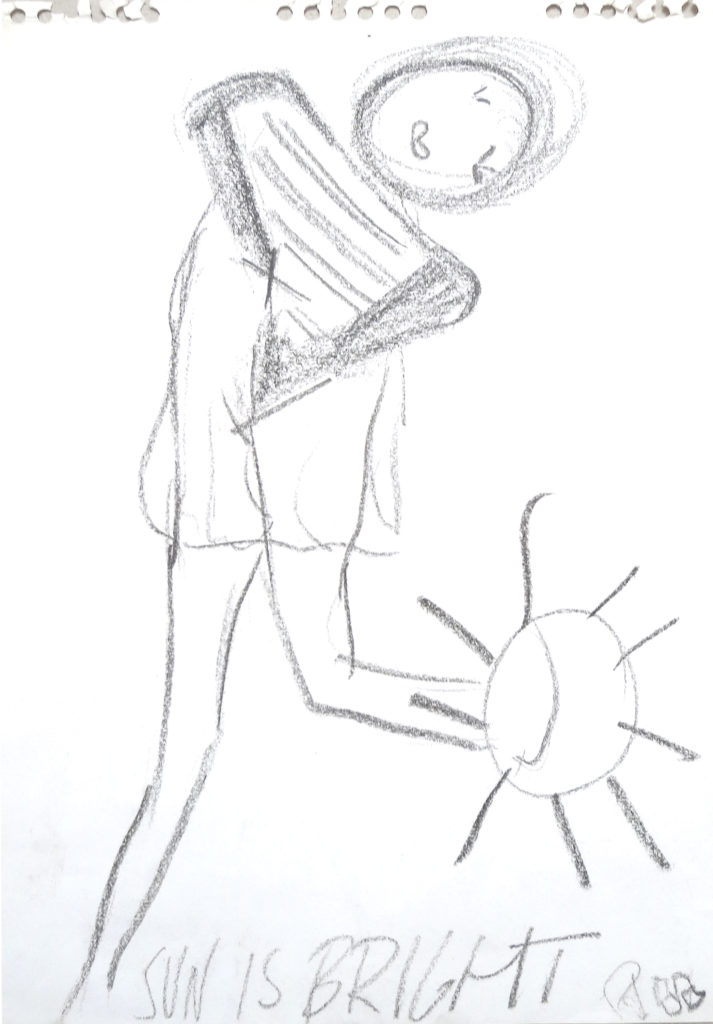 Eröffnung: Fr 18.11.2016 • 19 Uhr – es spricht Karin Pott
Ausstellung: Sa/So 19./20.11. • 15 – 20 Uhr
Sa 19.11.2016 • 19:30 Uhr: DJ Everybody – The Democratic Happening
hosted by Betty Party & David Maverick/DMKKMD
So 20.11.2016 • 19 Uhr: Performative Lesung "Szenegirl" von und mit Betty Stürmer
(english version below)
Die Ausstellung "Szenegirl" fokussiert Arbeiten von Betty Stürmer, die 1987-1991 in Schöneberg entstanden. Mit Kreuzberger Hausbesetzer- und aktivem Fischbüromitgliedhintergrund zog sie 1987 in den Stadtteil Schöneberg um. Kurz darauf eröffnet das Fischlabor als Ableger des dadaistischen Fischbüros. Dort arbeitet sie als Barfrau im Westberliner Underground oder schlägt sich mit Aushilfsjob für Schreibarbeiten in Westberliner Büros durch.
Die seit 1984 in Berlin lebende KünstlerIn, DJ/PerformerIn Betty Stürmer hat dazu große Teile Ihres zeichnerischen Werkes von 1984-1991 fotocopiert. 500 s/w Fotokopien von bisher nicht gezeigten Zeichnungen, Textfragmenten, Kartonobjekten aber auch Originalen werden ein überraschendes Spotlight zu Ihrer Schöneberger Zeit auf das 30-jährige künstlerische Werk von Betty Stürmer setzen.
Über ihre autodidaktische künstlerische Arbeit ab 1985, als MalerIn und PerformerIn bei Audiogruppe/Benoit Maubrey und den Guitarmonkeys gelangt sie schließlich 1989 an die dmalige HdK, lernt zeichnen und verläßt diese wieder nach 3 Jahren, um sich dann ganz der Berliner Clubkultur der 90'iger zu widmen und diese mitzuprägen. Sie erfindet das partizipativ, demokratische Happening DJ Everybody, wird dadurch selbst zum DJ und stattet die neuen Locations in Ostberlin mit ihrer Clubart aus. 1999 erscheint dazu ein Katalog/Fanzine im Rahmen ihrer Einzelausstellung "betty – all kind of style" im Haus am Lützowplatz kuratiert von Karin Pott.
Ihre Schöneberger Zeit – die Zeit kurz vor und nach dem Mauerfall, in der noch der Westberliner Inselgeist der 80'iger Jahre durchscheint, mit viel Exzess, Existenzialismus, Ironie und Parodie – beschreibt sie auch in ihrem 54-seitigen bislang unveröffentlichten Manuskript "Szenegirl 1984-2002", im Kapitel "westberlinerds deadline". Hierzu wird es im Rahmen der Ausstellung eine szenische Lesung geben.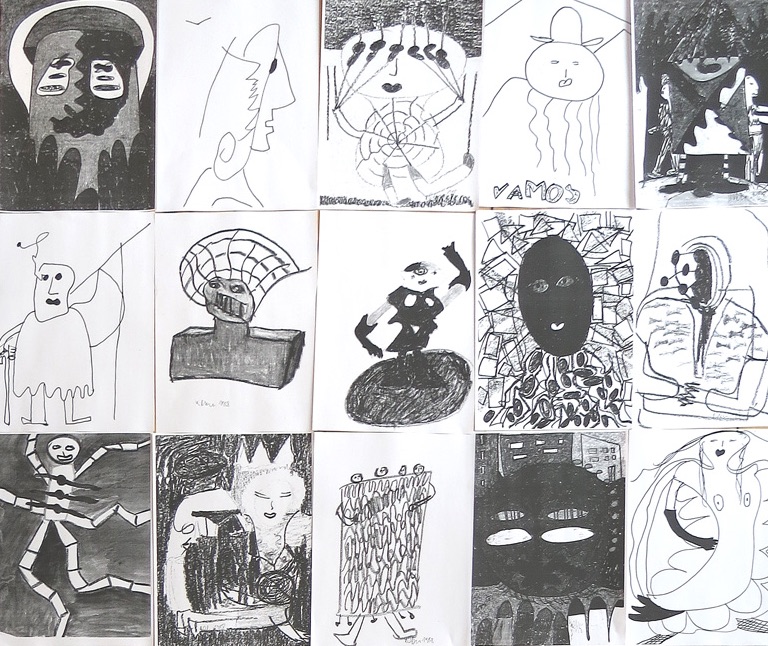 The exhibition "SZENEGIRL" focuses works by Betty Stürmer, produced 1987-1991 in Berlin-Schöneberg. With a Berlin-Kreuzberg squatter and active membership Fischbüro background she moved 1987 to Schöneberg. Fischlabor – another location of dadaist Fischbüro was opening shortly after this and she became a barwoman in westberlin underground or worked as a helping out secretary or typist in westberlin offices.
The artist, DJ and Performer Betty Stürmer, who lives since 1984 in Berlin fotocopied for this exhibiton wide parts of her drawings work from 1984-1991. 500 black & white fotocopies of unshown drawings, textfragments, cardboard objects but also originals will create a surprising spotlight on her Schöneberger time in the 30 years oeuvre of the artist.
Starting as an art autodidact in painting and sculpture 1985, Betty Stürmer became performer in Audiogruppe/Benoit Maubrey and the guitarmonkeys. 1989 she learned classical drawing and made it to the Berlin art academy formerly known as HdK. After 3 years she left the academy for the meanwhile strongly upcoming club culture movement, where she put a remarkable influence to it, with her huge size Club Art posterpaintings and plush objects shown in the new east berlin improvised locations. She invented the participativ democratic Happening DJ Everybody and became also a DJ.
1999 she had a soloexhibiton to her club art time in Haus am Lützowplatz and the catalogue/fanzine "betty – all kind of style" was published curated by Karin Pott.
Her Schönberg time, short before and after the wall came down – strongly influenced by the 80'ies westberlin island spirit with a lot of exzess, existentialism, irony and parody – finds a description in her 54 pages manuscript "Szenegirl 1984-2002" in chapter "westberlinerds deadline". There will be a reading performance by Betty Stürmer within the exhibition.