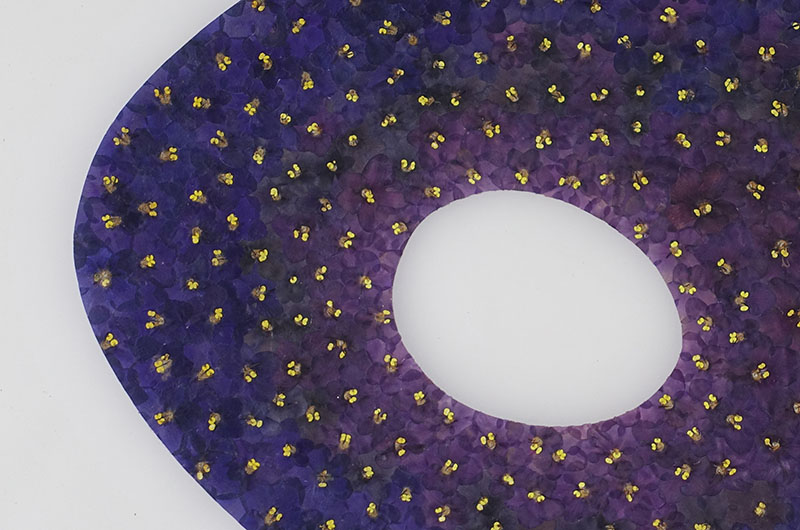 Eröffnung: Fr 11.10.2019, 19 Uhr
Ausstellung: Mi – Sa 12.10. – 19.10. • 15 – 19 Uhr
Fr 18.10. • Sound Happening • 19 Uhr
NARVAL
Evgenija Wassilew & Peter Strickmann
(english version below)
Jörg Hasheider arbeitet seit einigen Jahren mit gepressten Blüten auf Transparentpapier. In seiner Ausstellung in der Zwitschermaschine werden aus dieser Werkgruppe Arbeiten aus der Reihe "Organic Shapes" und die Wandinstallation "Organic Contamination" gezeigt; des Weiteren Teile des Tableaus "Ancestry", bearbeitete gerahmte Ahnenbilder des späten 19ten und frühen 20ten Jhd.
"Der Prozess des Machens wird abgelöst von einem, durch die einzigartigen Qualitäten der einzelnen Blüten bedingten Prozess des moderierten Wachsens. Das Werk wächst mit und aus dem Material. 
Der Prozess des Wachsens, gedacht im Gegensatz zum Prozess des Machens ist zugleich Ausgangspunkt im Material und Verwirklichung des bildnerischen Programms. JH Über das Arbeiten mit Blüten / Katalog
Jörg Hasheider, geb. 1962 in Herford, lebt und arbeitet seit 1985 in Berlin.
Ab 1992 stellt er als bildender Künstler aus. Auf ausgedehnten Reisen arbeitet er mit Collage, Aquarell und gepressten Blüten, im Atelier mit großformatigen, bemalten Gipsreliefs.
Ab 1998 kuratiert er für die Kunstfaktor Produzentengalerie Berlin. Mit ›Landfraktale 2001, Kunst zwischen Schloss und Dorf‹, fängt er an, große Kunstprojekte zu kuratieren: Ausstellungen in Dörfern, leerstehenden Altstädten und Schlössern. Eine intensive Auseinandersetzung mit Klangkunst beginnt. Ein Höhepunkt ist 2009 die deutsch-japanische Ausstellung ›Zen-Konkret‹ für die Kulturstiftung des Bundes.
Neben der kuratorischen Arbeit umfasst seine Kunstproduktion Installation, Fotografie, Video, Mixed Media und in den letzten Jahren wieder das Arbeiten mit gepressten Blüten.
Das Duo Narval schöpft aus Lauten möglicher Sprachen. Die minimalen und skulpturalen Sound-Happenings betonen Kontraste, Spärlichkeit und Klangfarbe und begegnen sich in der Improvisation zwischen Zufall und Kontrolle.
Peter Strickmann: Objekte, Feedback, Wind, Keramik, Smartphone
Evgenija Wassilew: Glas, Wodka, Alarm, Resonanzlautsprecher, Smartphone
Peter Strickmann installiert, performt und manipuliert hörbare Aktivität in öffentlichen und privaten Umgebungen und beobachtet, konfrontiert und befragt die Gewohnheiten des Hörens in routinierten sowie außergewöhnlichen Zusammenhängen. Er realisiert Installationen, essayistische Projekte/Fieldtrips, sowie situative Klanghandlungen und Konzerte in verschiedenen Gruppen, Duos und solo.
Evgenija Wassilews Arbeit umfasst Installationen und Objekte, performative Klangaufnahmen sowie auch ton- und textbasierte Aufzeichnungen. Dabei berühren die jeweiligen Aufnahme- Übersetzungs- und Kompositionsmethoden Grenzen und Möglichkeiten der Kommunikation, in der sich verschiedenartige Wahrnehmungswelten begegnen.
English version
Jörg Hasheider has been working for several years with pressed flowers on transparent paper. In his exhibition in the Zwitschermaschine, works from the series "Organic Shapes" and the wall installation "Organic Contamination" from this group of works are shown; furthermore, parts of the tableau "Ancestry", processed framed ancestral portraits of the late 19th and early 20th centuries.
"The trajectory of making is substituted by a process of mediated growth that is induced by the singular qualities of each blossom. The work grows with and from the material.
The process of growth, thought to be in contrast to the process of making, is the starting point in the material and realization of the artistic process united in one."
JH About working with Flowers / Catalogue
Jörg Hasheider, born 1962 in Herford, lives and works in Berlin since 1985.
Since 1992 he is exhibiting as a visual artist. On extended journeys he works with collage, watercolour and pressed flowers, in his studio with large-format, painted plaster reliefs.
In 1998 he starts curating for the Kunstfaktor art producer gallery Berlin. With ‹Landfraktale 2001, art between castle and village›, he begins to curate large art projects: Exhibitions in villages, vacant old towns and castles. An intensive involvement with sound art begins. One highlight is the German- Japanese exhibition ‹Zen-Konkret› for the German Federal Cultural Foundation in 2009.
In addition to the curatorial work, his own art production includes installation, photography, video, mixed media and, in recent years, again working with pressed flowers.
The Duo Narval draws on sounds of possible languages. The minimal and sculptural sound happenings emphasize contrasts, sparseness and timbre and meet in improvisations between chance and control.
Peter Strickmann: Objects, Feedback, Wind, Ceramics, Smartphone
Evgenija Wassilew: glass, vodka, alarm, resonance loudspeaker, smartphone
Peter Strickmann installs, performs and manipulates audible activity in public and private environments, observing, confronting and questioning the habits of hearing in both routine and extraordinary contexts. He realizes installations, essayistic projects/field trips, as well as situational sound actions and concerts in various groups, duos and solo.
Evgenija Wassilew's work comprises installations and objects, performative sound recordings as well as sound and text based records. In doing so, the respective recording, translating and compositional methods touch limits and possibilities of communication, in which different worlds of perception encounter.
Links:
Jörg Hasheider: https://transformator-plus.com/blog/
Peter Strickmann: https://peterstrickmann.info/info/
Evgenija Wassilew: http://evgenija-wassilew.com/