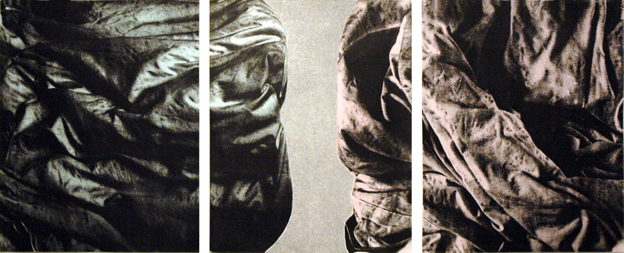 Eröffnung: Fr. 09.01.2015  –  19 Uhr
Ausstellung: 10.01. – 18.01.2015 – Do -So  15-19 Uhr
I am a printmaker, who is specialized in Stone Lithography. My works are based on printing itself, yet beside individual prints I combine them in different forms, such as artist's books and installations.
Printmaking for me is not only about the result of the printing process – the prints –, but it is more involving the whole work in progress from the creative part as well as the physicality to the final point. Printmaking is about time and limits, patience, progressive developing step by step. One has to be able to work according to this re-productive method whether the result consists of individual prints or an edition. In the end it is extremely versatile medium to work with: in this sense, this medium is also about breaking boundaries.
My imagery is based on sheets and the symbolism in them. At the same time bed sheets are a place of rest and fear, in which a one wraps him-/herself to. One can sense the stories and millions of imagery worlds, which remain only in the consciousness of the person who experience them.
Clean, white sheets are perceived to offer security, comfort as well as a stable ground to rest for the next night. On the other hand they may change their meaning – into nightmarish burial shrouds. Metaphorically this comparison and contradiction fascinates me.
I live on the edge of dream and awake. As the elements in my work, I use sheet bundles, which describe the nocturnal process happening in ones subconscious. Rampaged surface of the sheets create landscape-like sceneries, where dream meets reality.
KATRI IKÄVALKO – *19.3.1985
Education
2009–2010 Master Degree (MFA), The Royal Academy of Fine Arts, Antwerp, Belgium. Printmaking major. Promoter Ingrid Ledent
2005–2009 Visual Artist (BFA), Arts academy / The University of Applied Sciences, Turku, Finland. Printmaking major
2008 Royal Academy of Fine Arts, Antwerp, Belgium
2005 Digital Image Processing, The University of Applied Sciences, Tampere, Finland
2004-2005 Orivesi folk high school, Finland, Department of arts
2004 Colour and Shape -course, Snellman high school, Helsinki, Finland
2001-2004 Matriculation examination, Tampere normaalikoulu high school, Finland
Exhibitions, projects
2016 Exhange exhibition between Smedjebacken, Sweden and Turku, Finland. Curated by Katri Ikävalko
2014 Printmakers exhibition, Künstlerhaus Bethanien, Berlin, Germany
2014 Solo exhibition, Gallery Joella, Turku, Finland
2014 Solo exhibition, Galleri Hörnan, Falun, Sweden
2014   Grafiikan kesäsalonki (Summer salon of printmaking), Gallery Joella, Turku, Finland
2014 Ars Kärsämäki, Finland
2014 The Art of Basware, Musiikkitalo, Helsinki, Finland
2014 16th Tallinn Print Triennial exhibition, Tallinn, Estonia
2014 Artist of the month in Grafoteekki, Gallery G, Helsinki, Finland
2013 Solo exhibition, Kulttuuri Kulmala, Mynämäki, Finland
2013 Turku Printmakers Association's 80-year jubilee exhibition, Aboa Vetus & Ars Nova museum, Turku, Finland
2013 Turku Printmakers Association's group exhibition, Vilnius Graphic Art Centre, Vilnius, Lithuania
2013 Pro Lithography Association's summer exhibition, Verla, Finland
2013 Mindscapes (working title), B-gallery, Turku, Finland
2012 International Print Triennial – Krakow (works selected to Krakow and Vienna)2012 The Turku Artists' Association's annual exhibition, Köysiratagallery, Turku, Finland
2012 Sauna performance in Hagenfesten –music&art festival, co-operation with Sergei Klein (UKR), Dala Floda, Sweden
2012 "Dream House" –sound art piece (collaboration with Dennis Tan(SG), selected in the radio show Silakkaradio, Helsinki, Finland
2012 Marshmallow –invitation exhibition, Haihara Art Centre, Tampere, Finland
2012 Pyörre / Werveling: Pro Lithography Association in co-operation with Belgian artists, The Art Factory of Porvoo, Finland
2012 Sound art performance at Folk Festival: co-operation Ikävalko-Klein-Tan, Mooste, Estonia
2011 SPIRAALI Provincial exhibition, Cultural Centre Crusell, Liljelund-hall, Uusikaupunki, Finland
2011 Kiveen Piirretty, Hanasaari – the Swedish-Finnish Cultural Centre, Espoo, Finland
2011 "SELF-PORTRAIT", Turku Printmakers Association's group exhibition, Gallery Joella, Turku, Finland
2011 ArtForum Helsinki art fair, Helsinki Exhibition And Convention Centre, Finland
2011 Otoksia – self-portrait performances: part of 2000 & 11 SELF-PORTRAITS – project, Sokos Wiklund window gallery, Turku, Finland
2011   Uusi Lehti – uutta taidegrafiikkaa printmakers group exhibition Gallery G, Helsinki, Finland
2011 Bookfaciem –group exhibition, Gallery Ronga, Tampere, Finland
2010 6th International Lithography Symposium, Tidaholm, Sweden
2010 Master degree graduation exhibition, Royal Academy of Fine Arts, Antwerp, Belgium
2010 antARTik project, Central Library, University of Antwerp, Belgium
2010 l'Abondance, curated by Koen Theys, Hofstraat 15, Antwerp, Belgium
2010 Master Maquette II, project by Nadia Naveau at Verbeke Foundation, Stekene, Belgium
2009 Peittelevät sanat: Bachelor degree graduation exhibition, Gallery Joella, Turku, Finland
2008 Turku Art Society's annual exhibition, Gallery Just, Turku, Finland
2008 Group project for Letterenhuis at Central station, Antwerp, Belgium
2007 Group exhibition at St. Catherine's Church, Turku, Finland
2006 Piirustuskoulun tähdet -group exhibition, Gallery Nefret, Turku, Finland