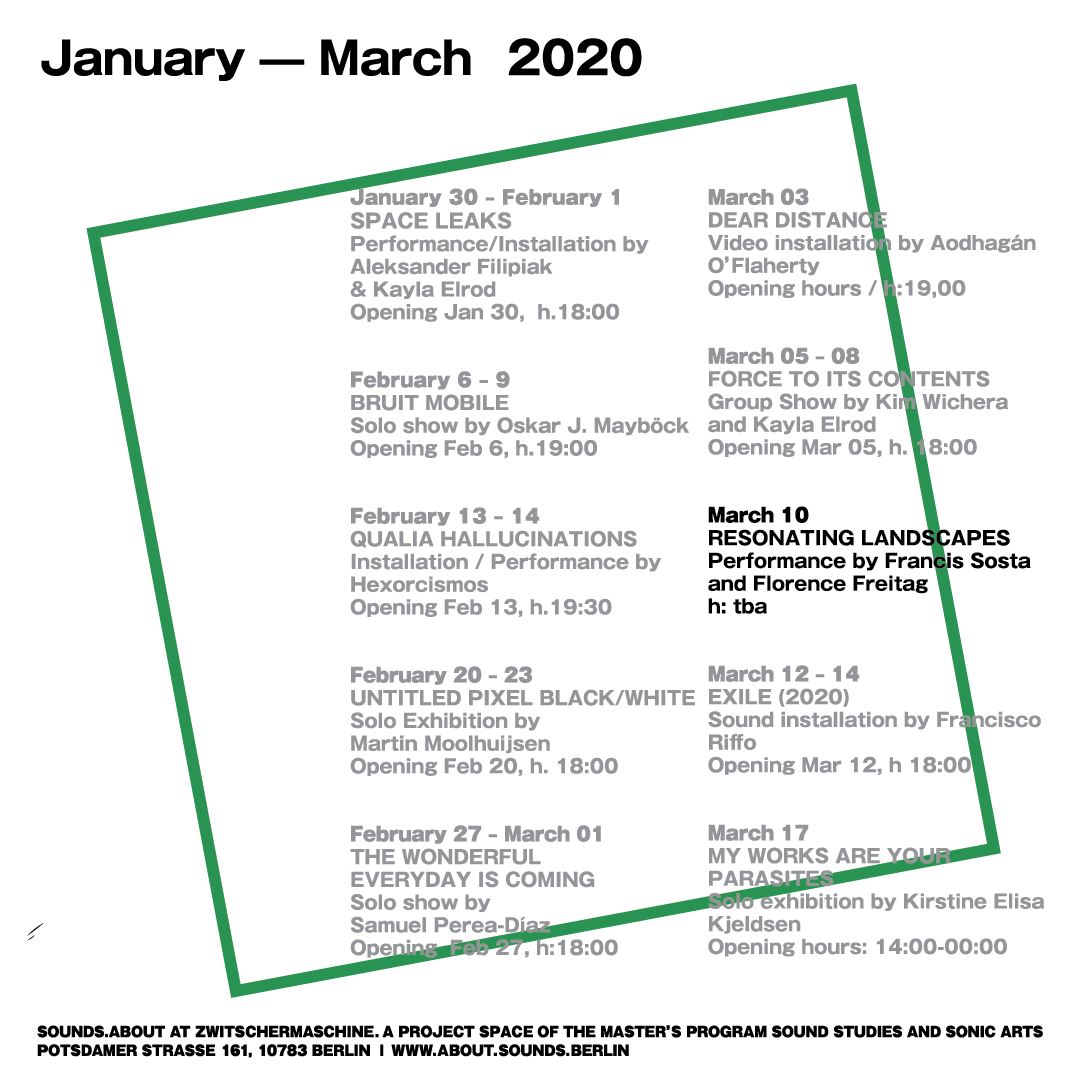 Friday, March 10, 2020
Doors open h.18:30
Durational performance h.19:00-21:00
*Visitors of the space may come and go during the time of the performance*
Resonating Landscapes is a performance by Francis Sosta and Florence
'Because when I play something in the present, then it's delayed and comes back in the future. But when it comes back in the future, I'm dealing with the past, and also playing again in the present, anticipating the future. So that's expanding time. That's the idea there. It's not about just one delay, it's about a whole lot of them.'
(Pauline Oliveros, in: Deep Listening: A Composer's Sound Practice)
Circles. Repetitions. Layers. Voices. In-Visible Forces.
How can we extend the notion of voice to space? How can we give voice to the ephemeral? This research is about immateriality and evaporation, inviting the voice to expand the limits of the body and reach for the space outside of our flesh. It's the troubled mesh that exists between humans, non-human material and beings, and systems of reproduction.
Artists Bio

Francis Sosta works as sound artist and curator, and since 2013 as performance artist in several international collaborations. She realizes her multidisciplinary artworks using video, sound and movement amongst other media, and she has previously been featured in many independent exhibitions, clubs and festivals in Italy, Germany and Belgium. She holds a BA in Art History, and she is currently a MA Sound Studies and Sonic Arts student at UdK, Berlin.
Florence Freitag is a Berlin based artist, working as performer/dancer, voice & video artist, writer, facilitator & curator, in close relationship to unstable moving bodies, environments & sounds and inspired by the strength of collaboration and exchange. Florence is part of queer feminist Altes Finanzamt e.V., one half "transatlanticbirdscrew" and of "Eye As a Collective" and co-founder of TanzRaumGörlitz.