Hannah Becher, Matthias Beckmann, Petra Lottje, Alina Mann, Cony Theis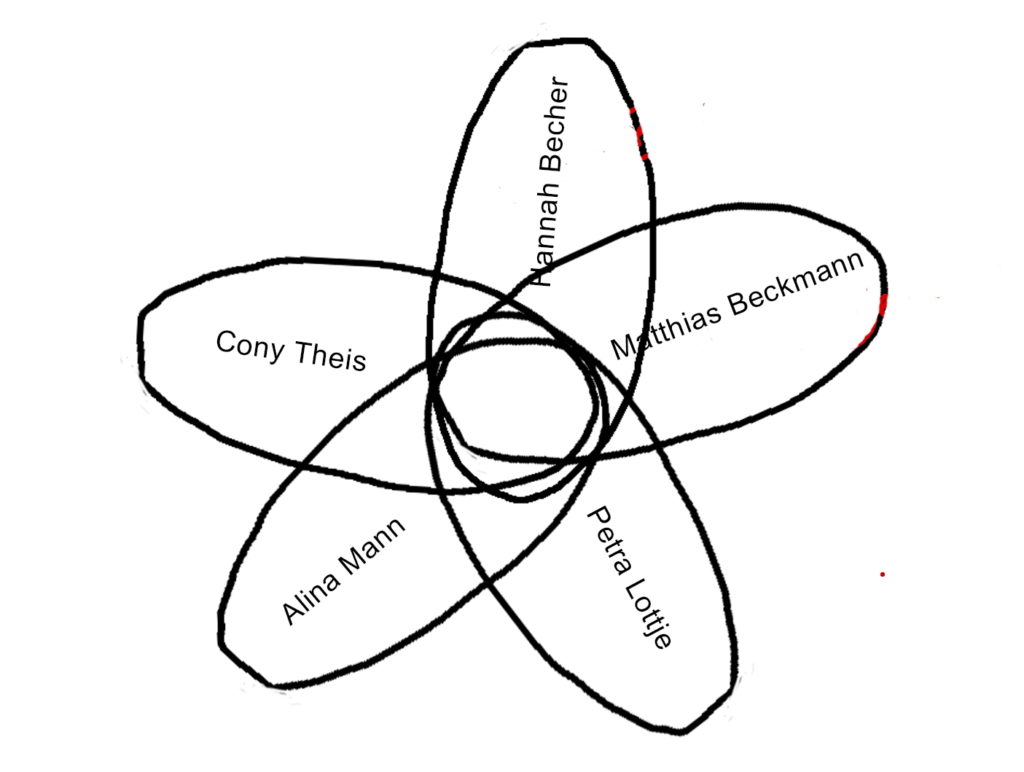 7. – 9. Januar 2022
Freitag, 7.1.2022, 14 – 18 Uhr:
Die Besucher*innen betrachten von außen das Geschehen durch das Schaufenster.
Ab 18 Uhr:
Soft Opening gemäß den aktuellen Covid-19-Bestimmungen: 2 G und mit Maske
Ausstellung geöffnet:
Samstag, 8.1.2022, 15 – 18 Uhr
Sonntag, 9.1.2022, 15 – 18 Uhr
Gleich zu Beginn des Jahres 2022 schließen sich fünf Künstler*innen zusammen, um mit einer besonderen Art der Ausstellung ins neue Jahr zu starten.
Sie lassen sich auf ein ihnen bislang unbekanntes Experiment ein:
Jede künstlerische Arbeit von PRÄSENS/22 entsteht in Wechselwirkung mit den Kolleg*innen direkt vor Ort!
4 Stunden werden sie sich dafür Zeit nehmen. Interessierte können durch die große Scheibe der "Zwitschermaschine" die Unmittelbarkeit des Entstehens von Augenblick zu Augenblick mit ansehen bevor sich die Türen für ein Soft Opening öffnen.
At the very beginning of the year 2022 five artists join up to start right into the new year.They engage with an experiment unfamiliar to them until now:
Each artistic work of PRESENT/22 emerges from reciprocity between colleagues on-site!
They will give themselves 4 hours for this. Interested parties can watch the directness of the creation process from moment to moment through the big shop window of "Zwitschermaschine" until doors will open for a soft opening.
Hannah Becher lebt und arbeitet seit 1983 in Berlin, geht für einige Jahre im Theater verschollen und verpasst dort den Mauerfall. Versuche durch Malerei Erleuchtung zu gewinnen scheitern ebenso, wie durch das Schneiden von Schablonen die Zeit anzuhalten. Eine nicht erbliche norddeutsche Sturheit zwingt sie diese Versuche zu wiederholen, zu wiederholen, zu wiederholen, zu wiederholen, zu wiederholen, zu wie…
Hannah Becher has lived and worked in Berlin since 1983, got lost in theater for a few years and missed the fall of the Berlin Wall there. Attempts to gain enlightenment through painting fail as well as trying to stop time through cutting stencils. A non-hereditary North German stubbornness forces her to repeat these attempts, to repeat, repeat, repeat, repeat, repeat …
website: http://www.hannahbecher.de Instagram: becher.hannah
Matthias Beckmann, * 1965 in Arnsberg, Studium an den Kunstakademien in Düsseldorf und Stuttgart.
Ich zeichne ohne fotografische Hilfsmittel und ohne Korrekturen vor dem Motiv an dokumentarische Zeichnungsserien zu ausgesuchten Orten wie Museen, Krankenhäusern, Parlamenten, Straßen, Friedhöfen, Kirchen, Ateliers etc. Daneben entstehen Zeichentrickfilme aus vielen Tausend einzelnen Blättern.
Im Netz findet man mich hier: http://www.matthiasbeckmann.com
In den sozialen Medien sucht man mich vergebens.
Matthias Beckmann, * 1965 in Arnsberg, studied at the art academies in Düsseldorf and Stuttgart.
I work in front of the motif, without photographic aids and without corrections, on documentary drawing series about selected places such as museums, hospitals, parliaments, streets, cemeteries, churches, studios etc.. In addition, I create animated films from many thousands of individual sheets.
You can find me on the web here: http://www.matthiasbeckmann.com
You won't find me in the social media.
Petra Lottje, *1973 in Rheda-Wiedenbrück, Abschluss 2005 an der HBK Braunschweig.
Ich lebe und arbeite in Berlin und habe immerzu Lust auf spannende Gegenwart. Das ist manchmal nicht ganz richtig, manchmal nicht ganz falsch – unterm Strich aber nie verkehrt! Und Striche gehören zu meiner Leidenschaft.
Das Zeichnen, die Animation, das Video sind meine Medien.
Und ich freue mich auf das Experiment mit den Vollblutkünstler/innen bei Präsens/22.
Artist website: https://www.lottje.de Insta: p_lottje
Petra Lottje, *1973 in Rheda-Wiedenbrück, graduated in 2005 from the HBK Braunschweig.
I live and work in Berlin and am always in the mood for exciting present. This is sometimes not quite right, sometimes not quite wrong – but the bottom line is never wrong! And strokes are part of my passion.
Drawing, animation, videoart are my media.
And I'm looking forward to experimenting with the full-blooded artists at Präsens/22.
Alina Mann ist in Berlin geboren (*1979) und aufgewachsen.
Sie ist geprägt durch lange Arbeitsaufenthalte in Los Angeles, Rio de Janeiro, Dubai und Bangkok. Sie ist mit Leib und Seele Architektin und findet in der Kunst eine Ergänzung, da Bauherrenwünsche, Budget und strenge städtebauliche Vorgaben ihr regelmäßig die absolute Freiheit verwehren.
Wie in ihrer Architektur kommen klare, geradlinige Formen zur Geltung.
Momentan arbeitet Alina an neuen begehbaren Werken, stetig auf der Suche nach neuen Perspektiven und unerwarteten Begegnungen.
website: http://alinamann.com/ Instagram:alina__mann
Alina Mann was born and raised in Berlin (*1979).
Working in Los Angeles, Rio de Janeiro, Dubai and Bangkok for longer periods has inspired her work. She is a devoted architect, yet art allows her to transcend client demands, budget constraints and planning restrictions which regularly limit her artistic freedom.
As in her architecture, clear, straightforward shapes manifest themselves in her art. She is currently working on accessible works constantly on the search for new perspective and serendipity experiences.
website: http://alinamann.com/ Instagram:alina__mann
Cony Theis, *1958 in Ewersbach, Studium an den Kunstakademien Mainz und Düsseldorf, seit 2013 Professorin für Bildende Kunst an der Hochschule für Künste im Sozialen, Ottersberg, lebt in Köln und im Westerwald.
"Ich fange an zu denken, obwohl ich nicht religiös bin,
dass ich eine Außerirdische, und eben nicht Cony Theis bin,
sondern ein Hund, und ich folge einer Spur.
Ich bin ein Hund, der Cony Theis ist, oder einer, der ihr folgt."
Webseite: www.conytheis.de, instagram: cony_theis
Cony Theis, *1958 in Ewersbach, studies at academies of Fine Arts in Mainz und Düsseldorf, since 2013 professor for Fine Arts at UNIVERSITY OF APPLIED SCIENCES AND ARTS, Ottersberg, lives in Cologne and in the Westerwald,
"I am starting to believe, although I am not religious, that I am an Extra-terrestrial,
and precisely not Cony Theis, but I am a dog, and I am following a trace.
I am a dog, that is Cony Theis, or I am one that is following her."
website: www.conytheis.de, instagram: cony_theis