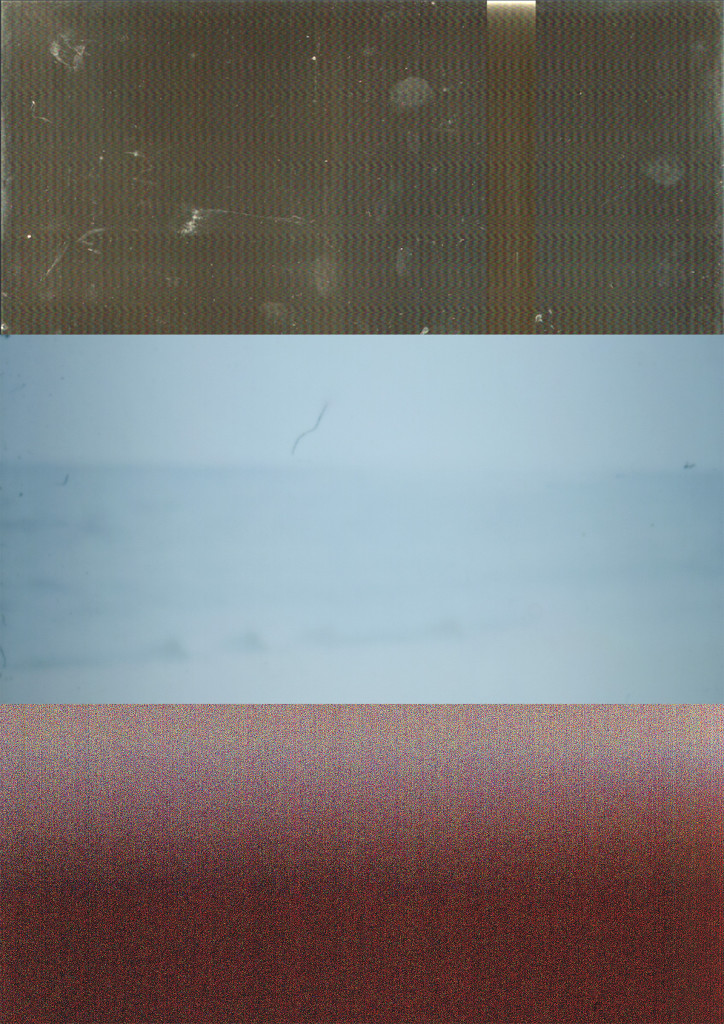 Eröffnung: Fr. 05.02.2016  –  19 Uhr
Ausstellung: 06.02.2016 – 21.02.2016 – Do-So 15-19 Uhr
Irgendwie haben sie sich getroffen, gesprochen und sich entschlossen, eine Ausstellung zu machen. Mit ihrer Erfahrung und Ausbildung in traditioneller Fotografie (wie macht man es/wie denkt es sich/wie schreibt man darüber) , wurden ihnen klar, dass sie in dieser Verbindung auf etwas vollkommen [wirklich?] Anderes aus sind. Was kann das sein? Hoffentlich kann die Ausstellung das ein Stück weit erklären – denn Post-Fotografie kann vieles bedeuten: kein Fotograf zu sein, in einer Fotografie zu leben, seine Kamera zu verkaufen, screenshots zu machen, Fotos zu löschen oder nutzlose Aufnahmen für Meisterwerke zu halten, überall Fotografie oder auch Fotografie in anderen zu sehen. Was geschieht, wenn niemand ein Foto anschaut? Wo war die Fotografie, bevor sie entstand, und wo wird sie nach ihrem Tode sein? Die drei polnischen Post-Fotografen haben Fragen über Fragen!
Somehow they met, talked and decided to make an exhibition. Having experiences and education in traditional (making/thinking about/writing on) photography, they understood that together they're onto something completely [really?] different. What is it? Hopefully the exhibition will partly explain as post-photography could mean many things: not being a photographer, living inside a photograph, selling your camera, taking screenshots, deleting photos or taking the useless shots as masterpieces, seeing photography everywhere and maybe seeing photography in others. What happens when nobody looks at a photograph? Where was photography before it was established and where is it when it is dead? The three polish post-photographers are screaming with question marks!
---
Karol Komorowski
Born in 1994, polish fine art artist and filmmaker based in London. He started learning film and photography in his early teenage years from his tutor, cinematographer Krzysztof Tusiewicz P.S.C. At that time he was already producing his first short films. Due to one of them, a realistic depiction of his school environment – "The Portrait" – he was expelled from high school. As a fine art artist he is represented by Lookout Gallery in Warsaw where he opened his first solo show at the age of 18. He exhibits internationally and gives lectures at universities and public galleries. In 2015 his first academic book was published by The University of Silesia Press and the leading polish art magazine "SZUM" listed him amongst 24 most influencial polish artists of his generation.
Individual exhibitions
Zwitschermaschine, "Hardware", Berlin, 2015
Label201, "Hardware", Rome, 2015
TRAFO, "Virtual Reality is Gone", Szczecin, 2015
Lookout Gallery, "Virtual Reality is Gone", Warsaw, 2014
Lookout Gallery, "Debiut", Warsaw, 2012
Group exhibitions
Zwitschermaschine, "The So-Called Death of Photography", Berlin, 2016
BWA Awangarda, TIFF Festival, Wyborny Trup Fotografii Polskiej, Wrocław, 2015
Galeria Bielska BWA, 3. Bielski Festiwal Sztuk Wizualnych, Bielsko-Biała, 2014
Museum of Modern Art, "SHOWROOM", Warsaw Gallery Weekend, Warsaw, 2013
Lookout Gallery, "Artbazaar: Tribute to Moda Polska", Warsaw, 2013
Lectured at
University of Arts in Poznań
Galeria Bielska BWA
University of Silesia
Books
"Obraz – między realnością a wirtualnością: refleksja a praktyka artystyczna", The University of Silesia Press, 2015
Other
John E Wright Award winner at FORMAT Festival 13, Derby, UK, 2013
Juror – 30. International Young Audience Film Festival Ale Kino!, youth jury, Poznań, 2012
Participant in crossmedia seminars Polska.doc 2012 by Towarzystwo Inicjatyw Twórczych Ę Warsaw 2012
http://www.karolkomorowski.com
---
Justyna Dryl
Lives, works and goes to parties in Poznań, Poland
Student of photography at University of Arts in Poznań
Graduated in ethnolinguistics at Adam Mickiewicz University in Poznań
Solo exhibitions
Byt rozstraja świadomośc (Being unsettles consciousness) Galeria Mała Czarna, Łódź 2015
Group exhibitions
Reinterpretation OFF_Festival, Bratislava 2015
Czarne słońca (Black suns) central of PKO BP, Warsaw 2015
Stany świadomości (States of consciousness) Kolektyw 1A, Poznań 2014
---
Magdalena Żołędź
Born in 1989, in Opole, Poland
2008 – 2011 Cultural studies, University of Opole (undergraduate)
2011 – 2013 Cultural studies, University of Wroclaw (postgraduate)
2012 – 2015 Photography, University of Arts in Poznan (postgraduate)
Solo exhibitions:
Designate of the word "dog" is an object of which truthfully could be said that it is a dog, Galeria AT, Master Degree Diploma, Poznań, 2015
< 400 %, Poznańska Galeria Nowa, curator: Piotr Szpilski Poznań, 2015
01, Contemporary Art Gallery, Opole, 2015
01, U Gallery, Wrocław, 2013
Collective exhibitions:
Francuzik Podlejska Żołędź, Ptapty (Teatr Polski) Poznań, 2014
Draw & Go, Muzeum Sztuki Najnowszej MONA, 2014
Interconnections 02, Zurich University of the Arts, Zurich, 2014
FLOWED PICTURE. Curatorial project by Konrad Kuzyszyn, 13th Internation festival of photography in Lodz, FF gallery, Łódź, 2014
OUT OFF, Schron Sztuki (art Shelter), Opole, 2014
THIS THING, 12th Internation festival of photography in Lodz, Galeria FF, Łódź, 2013
Proces, Galeria "Miejsce sztuki", Festiwal Sztuki Nowej LABIRYNT Słubice, 2013