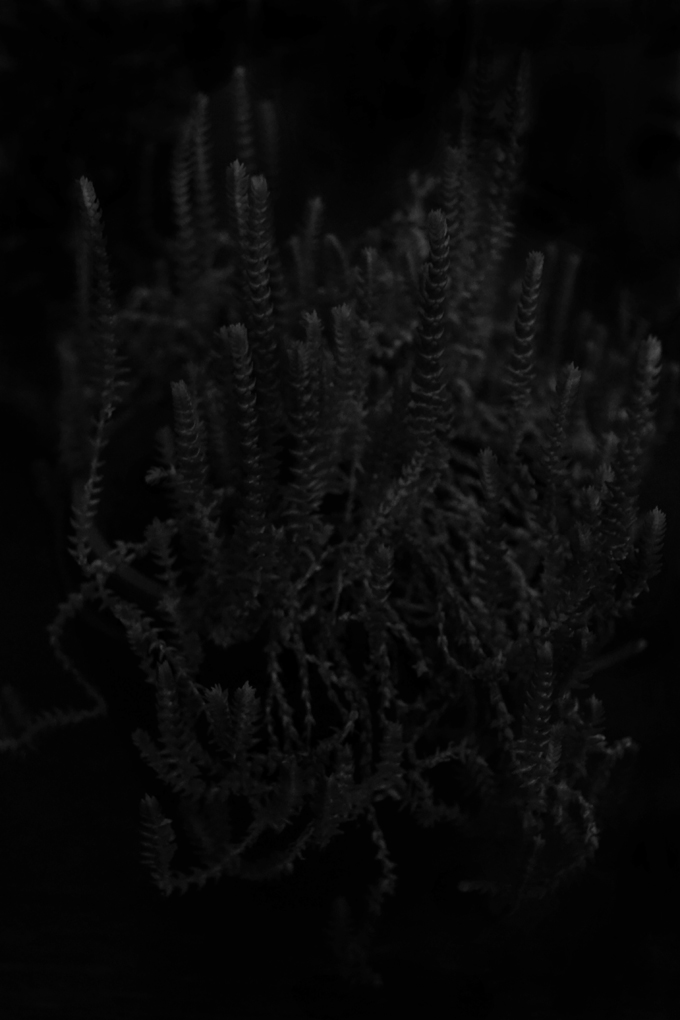 Eröffnung: Fr. 06.03.2015  –  19 Uhr
Ausstellung: 07.03. – 15.03.2015 – Do -So  15-19 Uhr
Die Digitalisierung des Bildes schafft eine glaubhafte Simulation einer Hyperrealität. Die visuelle Erfassung der Wirklichkeit zwingt uns zu deren Interpretation. Die Abbildung von Ausschnitten der Realität und der Zeit erschafft in unserem Bewusstsein augenblicklich einen Beziehungsrahmen. Damit eröffnet sich Raum für eine Manipulation mit den Aussagewerten des Bildes, ermöglicht durch eine perfektionierte Technologie, die es erlaubt in die Aufnahme einzugreifen, den Inhalt zu verändern, ohne dass dabei die Glaubwürdigkeit der Mitteilung, die übertragen wird, gestört würde.
Was geschieht aber in dem Fall, dass dieses Relikt einer Realität aufhört auf sich selbst zu verweisen? Die beiden jungen Künstlerinnen Adrian Bogdanova und Lenka Vymolova nutzen die digitale Fotografie, um den narrativen Rahmen dieses Mediums mit Störungen zu versehen. Beide beschäftigen sich auf ihre Art mit dem Verhältnis Informationsvermittlung und dargestellter Wirklichkeit, wobei die unterschiedlichen Impulse für ihre Arbeit deutlich werden. Sie nutzen verschiedene soziale und kulturelle Erfahrungen, spielen mit der Wahrnehmung des Betrachters, erschweren die Dekodierung des Bildes und dessen referentiellen Rahmens.
Vymolova schichtet mit Hilfe des digitalen Drucks Fotografien auf Leinwand. Sie thematisiert die Alltäglichkeit des Dorf- und Stadtlebens, wendet sich Motiven zu, die sie umgeben. Die Patina, die sie auf die alltäglichen Bilder der Realität legt, lassen diese als historische Relikte erscheinen. Bogdanova dagegen beschäftigt sich in ihren präzise ausgearbeiteten fotografischen Objekten nicht so sehr mit deren Kontextualisierung. Sie will den Einfluss des Lichts in der Gestaltung der visuellen Wahrnehmung demonstrieren, und sie weist dabei die Grenze auf, die uns das Licht bei der Wahrnehmung und der Abbildung der Wirklichkeit setzt. Text Jakub Dluhosch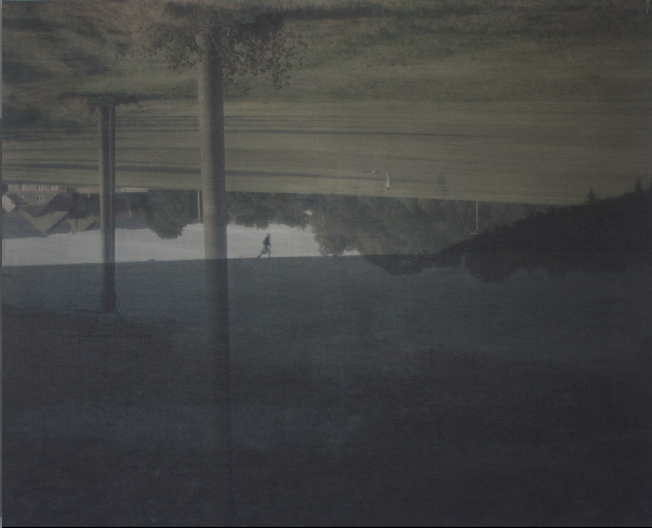 Lenka Výmolová, * 1990
Lenka Výmolová is student of the fifth grade at the Faculty of arts in the atelier of František Kowolowský. Výmolová is working with the imperfection of digital photography, but she is at the same time interested in family themes and in the folk culture of the region of her origin, which is called "Slovácko".
Herr art-works are characterized by humour and a detached view. Stickers with the portrait of her ill grandmother you may find in Stockholm, London and most possible everywhere else. She enjoys the landscapes of her homeland and she likes running over hills.
Education:
2013 University of Ostrava, Faculty of arts, atelier of painting – F. Kowolowski MgA.
2010 – 2013  University of Ostrava, Faculty of arts, atelier of painting – F. Kowolowski – F. Kowolowski, BcA.
2011  Academy of fine arts in Riga
Solo exhibitions:
2013 Devětsetčtyřicetpět, Caffehouse Ulité kafé, Uherský Brod
2010 Bez holubí letky, Gallery 217, Ostrava
Group exhibitions:
2014 Oranžová a fialová, FAVU Brno, Group exhibition with Atelier of painting2
2014 (NE)ZVÁNI, Gallery 217, Group exhibition with Lenka Martincová within project Vlhký malířky
2013 Dojdi sa podívat, Uherský Brod, Group exhibition with local artists
2012 Hody, Theatre Reduta, Brno, Group exhibition with Atelier of painting2
2010 Nivnica sobě, Nivnice, Group exhibition with local artists
2009 Slovácký šmetrdól, Nivnice, Group exhibition with local artists
2014 Romano drnom, Slovakia, Head of workshops with roma childrens
Adriana Bogdanová, *1981
Born in Sobrance in Slovakia
Adriana Bogdanova lives and works in Amsterdam in the Netherlands
"Bogdanova graduated from the Gerrit Rietveld Academy and though her work is based in photography, her series tend to move between collage, installation and experiment. Her subjects are often things of the natural world such as animals and plants. Bogdanova chooses with care and explores with precision, resulting in the subtle and refined beauty that ties through her work." Text Floor Kortman
Education
2004-2008 Gerrit Rietveld Academie, BFA, Amsterdam, The Netherlands
Exhibitions
2014 solo exhibition, Nocturnes, Subbacultcha!, Amsterdam, The Netherlands
2014 group exhibition, Faceless, Stichting Mediamatic, Amsterdam, The Netherlands
2013 group exhibition, X10, Toren, Amsterdam, The Netherlands
2013 group exhibition, Faceless part II, quartier 21/MuseumsQuartier Wien, Vienna, Austria
2013 solo exhibition, When hippo meets the cylinder, Weekender + De Punt, Amsterdam, The Netherlands
2013 presentation, Ignite Amsterdam #26, Stichting Mediamatic, Amsterdam, The Netherlands
2013 solo exhibition, Phases of appearance/Fázy zjavenia, Slovak Institute, Budapest, Hungary
2012 group exhibition, Polly's Picture Showroom, KUNSTVLAAI, Amsterdam, The Netherlands
2011 group exhibition, Clash Festival
2011, De Oosterpoort, Groningen, The Netherlands
2010 group exhibition, One Minute Festival, Badhuistheater, Amsterdam, The Netherlands
2010 group exhibition, Stukafest, Groningen, The Netherlands
2009 group exhibition, Beehive Experiment, Overtoom 301, Amsterdam, The Netherlands
2008 group exhibition, Nederlands Film Festival, Utrecht, The Netherlands
2008 group exhibition, Gogbot Festival, Enschede, The Netherlands
2008 group exhibition, Final exam show, Gerrit Rietveld Academie, Amsterdam, The Netherlands
2008 group exhibition, Final exam film presentation, Filmmuseum, Amsterdam, The Netherlands
2008 presentation, Next of Kin, Filmmuseum, Amsterdam, The Netherlands
2008 group exhibition, Rietveld in de Kerk, Oude Kerk, Amsterdam, The Netherlands
2006 group exhibition, Dawning, Lloyd Hotel, Amsterdam, The Netherlands
Nominations
2008 Young Blood Award, Enschede, The Netherlands
Publications
2015 DONTPOSTME #10 (SELECTED/BLACK'N'WHITE ISSUE)
2014 Phases Magazine
2014 YET magazine 
2014 New Dawn
2014 Groundmagazine #22
2014 Terug naar de toekomst, Tijdschrift Ei #28
2013 Memento mori, Hard//Hoofd Magazine 
2013 Nº13 // Adriana Bogdanova, Beelddragers
2013 Jazz it up, Hard//Hoofd Magazine
2013 Uit je schedel, Tijdschrift Ei #16
2013 Schandalig in Beeld, Hard//Hoofd Magazine
2012 NL/BE: De buren in beeld, Hard//Hoofd Magazine
2012 De roes, Mister Motley Magazine
2008 Catalogus NFF 2008
2008 Steampunk Edition Gogbot Festival 08
Artist Books
2008 Bluebeard's Castle, Self-Published Collage Book
2006 Winterreise, Self-Published Collage Book