Resonature
revisiting sonic corporeality
Nov 4 to Nov 28 2022
During the month of November, SoundsAbout presents installations, performances, and a listening session, wandering through (un)told stories, memories, and the patterns that underlie human/non-human behaviour. Here, we traverse the network that connects all beings. The awareness of our bodily presence in the natural world, and examining the complex relationships with our surroundings. https://about.sounds.berlin/
Im November präsentiert SoundsAbout Installationen, Performances und eine listening session. Es geht um (un)erzählte Geschichten, Erinnerungen und die Muster, die die dem menschlichen und nicht-menschlichen Verhalten zugrunde liegen. Dabei durchqueren wir das Netzwerk, das alle Wesen miteinander verbindet. Das Bewusstsein für unsere körperliche Präsenz in der natürlichen Welt und die Untersuchung der komplexen Beziehungen zu unserer Umgebung. https://about.sounds.berlin/
Genesis Victoria
BARNACLES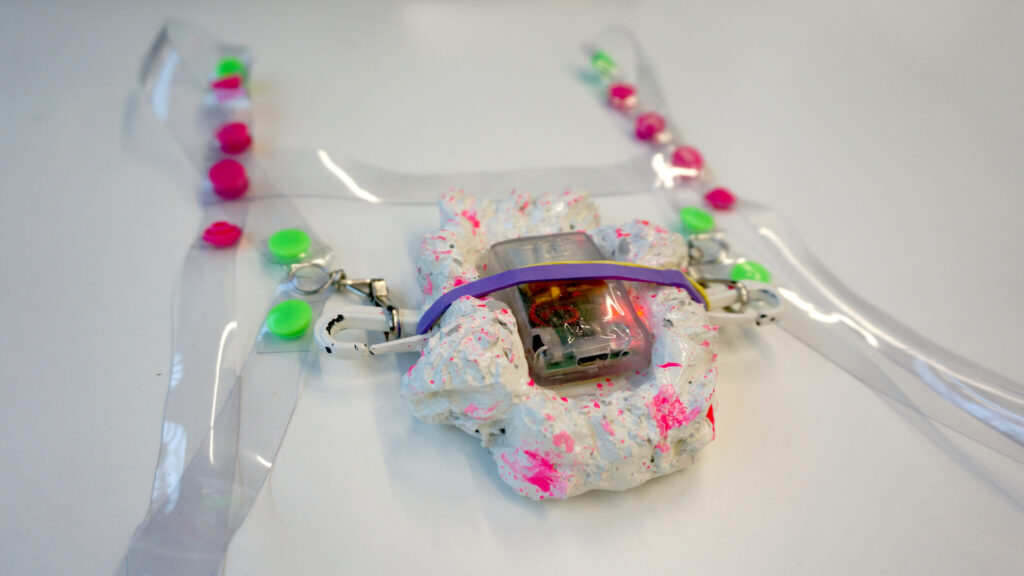 Fr 11.11. – 18 – 22 Uhr (Performance 19:30 – 20:00 Uhr)
Sa 12.11. • 16 – 19 Uhr (Performance 17:30 – 18:00 Uhr)
english version see below
Barnacles: Prototypen für akustische Wearables, Dispositive für verschiedene Situationen. Barnacles (zu Deutsch Seepocken) sind eine Art von Meereskrebstieren, die fest mit ihrem Untergrund verwachsen. Sie siedeln sich unter anderem an Felsen, Meeressäugetieren, Unterwasservulkanen und Schiffen an, sie verankern sich fest mit ihrem Untergrund und sind so in der Lage, sich jeder Situation anzupassen. Ihre Symbiosen sind nicht-invasiv, sie behalten jedoch immer ein Stück ihres Lebensraums bei sich – ihr Untergrund geht nie vergessen. Wie die Seepocken auch, zielt der tragbare, akustische Prototyp darauf ab, eine Beziehung, eine Schnittstelle zwischen dem/den Sensor(en) und dem tragenden Körper herzustellen. Die entstehenden Zwänge, Grenzen und Formen ermöglichen eine ästhetische Erfahrung, die tief mit der eigenen Biografie und Umgebung verwurzelt ist. Barnacles erzeugt seine eigene ästhetische Ökologie. Während der Ausstellung wird Genesis Victoria ihre Dispositive durch verschiedene performative Veranstaltungen aktivieren.
Genesis Victoria (they/them) ist eine nicht-binäre Person, die Sound- und Performance-Kunst schafft. Geboren wurde Genesis 1989 in Chile. Aktuell absolviert Genesis einen Master in Sound Studies und Sonic Arts an der UdK Berlin. Genesis' Arbeit besteht darin, experimentelle Soundsysteme und Performances für bestimmte Orte zu kreieren, die haptisch-sexuelle und rituelle Erfahrungen mit Lautsprechern, Mikrofonen und Klängen durch Körperarbeit schaffen. Dafür arbeitet Genesis mit einem post-akusmatischen, queer-feministischen, dekolonialen Ansatz. Genesis' Soundsysteme werden als Ökologien betrachtet, in denen alle Beteiligten- menschliche und nichtmenschliche – eine temporäre Klanggemeinschaft bilden, in der Klänge und Gesten ein ästhetisches Feld verschiedener Klangzonen und/oder Texturen und Beziehungen schaffen. Genesis' Performances reagieren auf die Besonderheiten der Orte: ihre Erinnerungen, Geschichten/Geschichte, materielle Qualitäten, Akustik und Platzierung.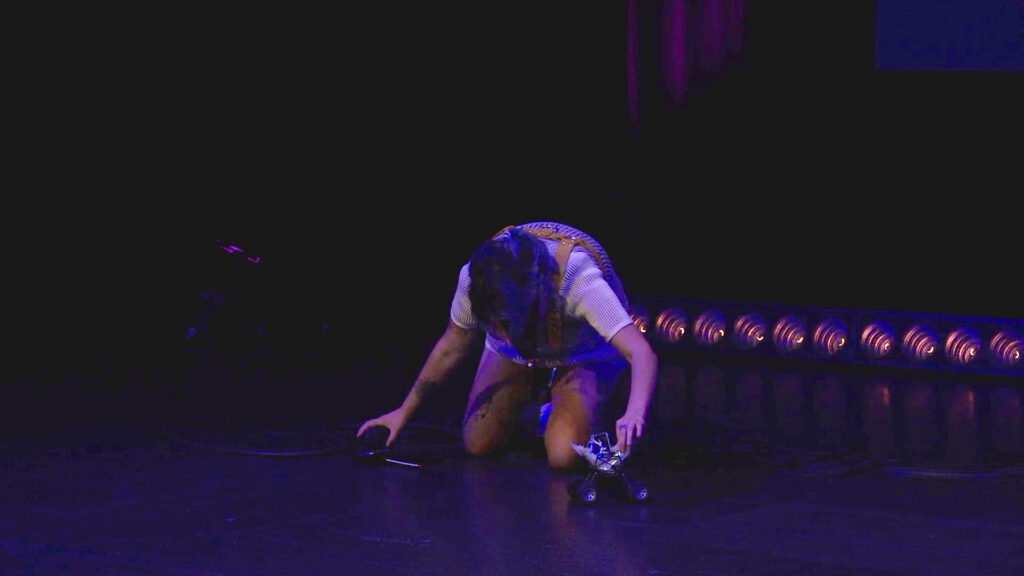 Barnacles: prototypes for sonic wearables, dispositives for diverse situations. Barnacles are a type of sea crustaceans that attach to a diverse variety of surfaces: from rocks to sea mammals, underwater volcanoes, ships, and so on. They adapt to any situation context but also carry their ownstories/history. Its process is about memory and non-invasive symbiosis. Barnacles aim to build the relation, an interface, between the sensor(s) and bodies. Constraints that provide possibilities, boundaries and shapes that allow the emergency of aesthetic experiences, answering biography, context, environment. It has its own aesthetic ecology. During the exhibition, Genesis Victoria will activate their dispositives through diverse performative events.
Genesis Victoria – non-binary sound and performance artist (they/them). Chile, 1989. Pursuing a Master's degree in Sound Studies and Sonic Arts at UdK Berlin. Their work consists of creating experimental sound systems and performances for specific sites, creating haptic-sexual ritual experiences with speakers, microphones and sounds through bodywork, from a post-acousmatic queer feminist decolonial approach. Their sound systems are considered ecologies where all participants, human and non-human, create a temporary sonic community, where sounds and gestures create an aesthetic field of diverse sonic zones and/or textures and relations. Their performances respond to the specificity of the sites: their memories, stories/History, material qualities, acoustic, placement and so on.


Website: http://genesisvictoria.cl
instagram: genacetacea
youtube: https://www.youtube.com/channel/UCfe0_Ex2d-8gHXRwf1405ng
* SoundsAbout is a collaboration between the Master's program Sound Studies and Sonic Arts at the University Berlin and the gallery Zwitschermaschine, offering a project space to present and discuss, question and celebrate the work and ideas of our students and their guests for three months every year.