Generations
13. Januar – 15. März
In Spring 2023, as part of CTM Vorspiel, SoundsAbout presents installations and performances revolving around the inquiry of machine and/or human at the project space Zwitschermaschine.
This series encompasses the plural meaning of the word "GENERATIONS"– whether it be with a computer or through lineage and human relationships.
Im Frühjahr 2023 präsentiert SoundsAbout im Rahmen von CTM Vorspiel im Projektraum Zwitschermaschine Installationen und Performances, die sich um die Frage von Maschine und/oder Mensch drehen.
Diese Reihe umfasst die plurale Bedeutung des Wortes "GENERATIONS" – sei es mit einem Computer oder durch Abstammung und menschliche Beziehungen.
Anna Phaenarete Lioka & Marios Leandros Basteas
Being, written in stone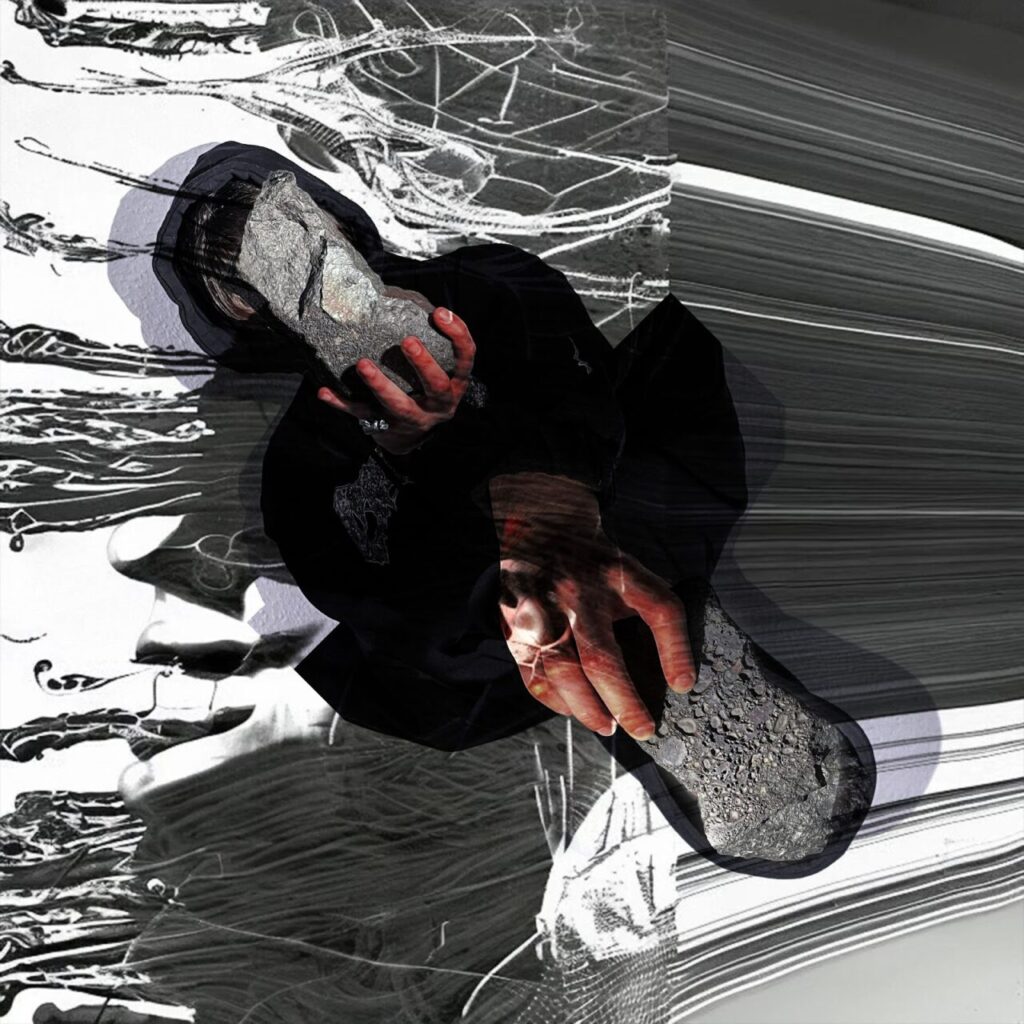 FEB 24 – 26
Opening Friday 24th – 19:00-22:00
Saturday 25th – 14:00 – 22:00
Sunday 26th – 14:00 – 19:00
english version below
"Being, written in stone" ist ein Projekt, das die Beziehungen zwischen Mensch-Stein-Maschine mittels Erinnerungen erforscht. Das Projekt zielt darauf ab, unsere Position in der Welt als menschliche und nicht-menschliche Wesen zu hinterfragen und Wege vorzuschlagen und vorzustellen, wie miteinander verflochtene Welten geschaffen werden können. Was kann Erinnerung aus der Perspektive eines Steins sein? Wie können wir die Erinnerungen anderer, sowohl menschlicher als auch nicht-menschlicher Wesen, reflektieren?
Wir existieren in dieser Welt mit anderen, mit Menschen und Nicht-Menschen. Unsere Existenz ist von unserer Einwirkung auf sie geprägt, anstatt andersherum. Sie verhalten sich auf der Grundlage unserer Handlungen. Das stellt uns in den Mittelpunkt der Dinge und alles existiert durch unser Wirken. Diese Sichtweise schafft Grenzen zwischen uns und Hierarchien in der Existenz, die Unterschiede hervorrufen. Die Frage ist also, wie wir stattdessen Beziehungen zu ihnen schaffen können, und zwar in einer Weise, dass wir gleichermaßen gemeinsam existieren, sterben und denken können.Die Aufmerksamkeit muss vom Menschen weg verlagert und der Weg zu einer Koexistenz in einer symbiotischen Beziehung geebnet werden.
Über die Künstler*innen:
Marios Leandros Basteas' Arbeit konzentriert sich auf Rauminstallationen, die verschiedene Techniken: Skulptur, Druckgrafik, Malerei, digitale Kunst und Fotografie. Er schafft Verbindungen zwischen alltäglichen Elementen und dystopischen Atmosphären (und umgekehrt), wodurch vertraute vertraute Themen zur primären Herausforderung für den Betrachter.
Anna Phaenarete Lioka konzentriert sich in ihrer Arbeit auf menschliche und nicht-menschliche Beziehungen durch neue Technologien. Ihre Arbeit umfasst Klanginstallationen und Skulpturen sowie andere Medien und hinterfragt unsere Position in der Welt und wie wir mit ihr umgehen. Ihre Arbeit hinterfragt unsere Position in der Welt und wie wir mit anderen Objekten und nicht-menschlichen Wesen Verbindungen und Dialoge miteinander schaffen.
"Being, written in stone" is a project that explores the relations between human-stones-machine through memory. The project aims to question our position in the world as entities, human and non-human, and to suggest and imagine ways to create intertwined worlds. What memory can be, from the perspective of a stone? How can we reflect on each other's memories, human and non human?
We exist within this world with others, humans and non humans. Nevertheless our existence is predominant in relation to objects, we act on them constantly rather than them acting on us. They behave based on our actions. This is putting us in the center of things and everything exists through our scope. Taking this view on this, creates boundaries between us, hierarchies in existence that create distinctions. Thus the question is how can we instead create relations with them, in a way that we equally existing with, dying with, thinking with? Shifting the focus of attention from humans and coexisting in a symbiotic relation.
About the Artists:
Marios Leandros Basteas's work is focusing on spatial installations combining different techniques: sculpture, printmaking, painting, digital arts, and photography. He creates connections between everyday elements and dystopian atmospheres (and reversed), thus familiar subjects become the primary challenge for the viewer.
Anna Phaenarete Lioka work is focusing on human and non-human relations through new technologies. Her work involves sound installations and sculptures and other media as well.Her work is questioning our position in the world and how we engage and reflect on other objects and non-human entities, creating links and dialogue with each other.
* SoundsAbout is a collaboration between the Master's program Sound Studies and Sonic Arts at the University Berlin and the gallery Zwitschermaschine, offering a project space to present and discuss, question and celebrate the work and ideas of our students and their guests for three months every year.