Generations
13. Januar – 15. März
In Spring 2023, as part of CTM Vorspiel, SoundsAbout presents installations and performances revolving around the inquiry of machine and/or human at the project space Zwitschermaschine.
This series encompasses the plural meaning of the word "GENERATIONS"– whether it be with a computer or through lineage and human relationships.
Im Frühjahr 2023 präsentiert SoundsAbout im Rahmen von CTM Vorspiel im Projektraum Zwitschermaschine Installationen und Performances, die sich um die Frage von Maschine und/oder Mensch drehen.
Diese Reihe umfasst die plurale Bedeutung des Wortes "GENERATIONS" – sei es mit einem Computer oder durch Abstammung und menschliche Beziehungen.
Cielo Vargas Gómez
Vorágine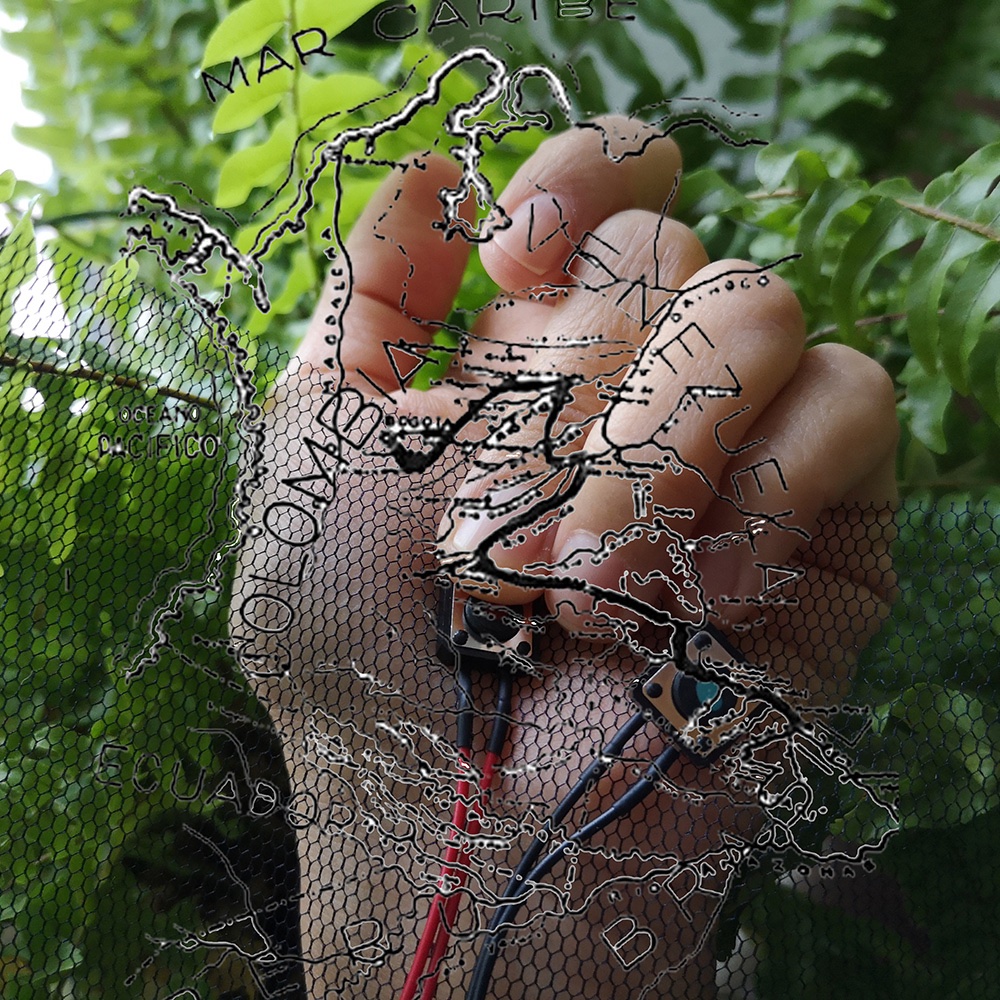 MAR 10 – 12
Opening Friday 10th – 19:00 – 22:00
Saturday 11th – 14:00 – 19:00
Sunday 12th – 14:00 – 19:00
english version below
Der Roman La Vorágine (1924) des kolumbianischen Schriftstellers José Eustasio Ribera enthüllt die Elemente der kolumbianischen Vorstellungswelt, die mit dem Wort Wirbel verbunden sind. Es handelt sich um eine Geschichte irgendwo zwischen historischer Erzählung und Fiktion, die sich einer romantischen Handlung bedient, um die gewaltsame Ausbeutung des Territoriums und der menschlichen Körper während des "Gummifiebers" im Amazonasgebiet zu thematisieren. Vorágine ist gleichzeitig ein Wirbel von Emotionen, eine mächtige Naturgewalt und eine gewalttätige Ausbeutung. Ich bin daran interessiert, dieses Wort von seiner kulturellen Bedeutung zu lösen, um den Dialog zwischen dem Territorium und den menschlichen Formen der Beständigkeit zu verfolgen. Obwohl der Roman im frühen zwanzigsten Jahrhundert spielt, hat sich die heutige Situation kaum verändert. Der Kautschukrausch, der Goldrausch, der Lithiumrausch und die anhaltende unausgewogene Beziehungen zwischen denjenigen, die ethnische Gemeinschaften enteignen und sich das Land aneignen, und denjenigen, die enteignet werden, deren Gemeinschafte auf der Suche nach Arbeit migriert, die als Ressourcen betrachtet werden, haben Spuren hinterlassen. Ich schlage eine Reflexion durch das Zuhören und die Stimme vor, über das Entdecken und das Tarnen, über den Körper und seine Bewegung im Territorium, über zwei entfernte Klangterritorien. Eine Reflexion des Ohrs steckt in unseren Fußsohle.
Über die Künstlerin:
Forscherin, bildende Künstlerin und Klangforscherin. Ausgehend von der Praxis des Gehens und des Zuhörens beschäftigt sie sich mit den menschlichen Manifestationen, die den öffentlichen Raum und die natürliche akustische Umgebung beeinflussen. Ausgehend von audiovisuellen Dokumentationsverfahren schlägt sie in ihrer Arbeit Reflexionen und Analysen alltäglicher akustischer Begegnungen vor, die auch auf kollektiven sozialen Situationen basieren. Ihre Projekte sind vertraut mit den Ideen der umgebenden Informalität, des Wandergewerbes, der wirtschaftlichen Unsicherheit, der Illegalität und deren Grauzonen kollektiver Aktionen und der Wiederkehr des Volkes; der Rechtfertigung von Stimmen als kollektive Körper des Protests und der Sichtbarkeit; der Transformation von akustischen Landschaften, die von menschlicher Aktivität beeinflusst werden; sowie dem Ephemeren und Transitorischen.
La Vorágine (1924) is the title of the novel by Colombian writer José Eustasio Ribera. It reveals the elements that make up the Colombian imaginary linked to the word vortex. It is a story, in the key of historical tale and fiction that uses a romantic plot to address the violent exploitation of the territory and human bodies during the "rubber fever" in the Amazon. Vorágine is at the same time turbulence of emotions, powerful natural force and violent exploitation. I am interested in taking up this word from its cultural signifier to follow the dialogue between territory and human modes of permanence. Although the novel is set in the early twentieth century, today the situation has not changed so much. The rubber rush, the gold rush, the lithium rush, and a long etcetera of unbalanced relationships between those who dispossess ethnic communities and take over the land, assuming the land, the communities and the population that migrates in search of work as resources to be exploited. I propose a reflection from listening and voice; between discovering and camouflaging; between the body and its movement in the territory; between two distant sound territories. As a reflection from the ear, we have in the soles of our feet.
About the Artist:
Researcher, Visual Artist and Sound Explorer. From the practice of walking and from processes of listening, she becomes involved with the human manifestations that affect public space and natural acoustic environments. From the audiovisual documentation procedure, her work proposes reflections and analyses of everyday aural encounters, also based on collective social situations. Her projects are familiar with the ideas of surrounding informality, itinerant commerce, economic precariousness, illegality and their grey areas of collective action and popular recursiveness; the vindication of voices as collective bodies of protest and visibility; the transformation of aural landscapes impacted by human activity; as well as the ephemeral and transitory.
* SoundsAbout is a collaboration between the Master's program Sound Studies and Sonic Arts at the University Berlin and the gallery Zwitschermaschine, offering a project space to present and discuss, question and celebrate the work and ideas of our students and their guests for three months every year.