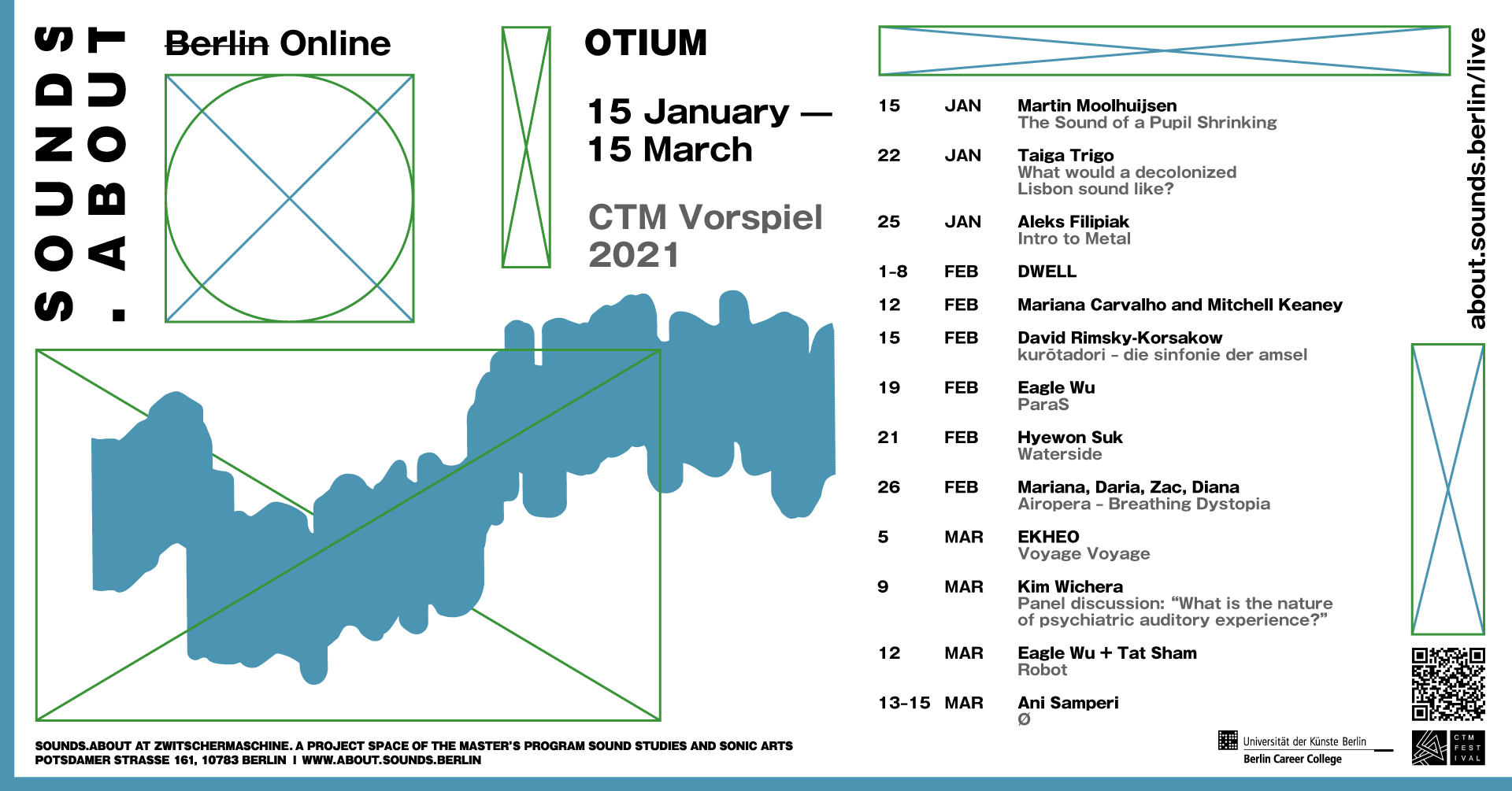 January 15-March 15, 2021
From January 15-March 15, 2021, SoundsAbout is delighted join CTM and Transmediale's Vorspiel program, carving out an OTIUM for artists from UdK's Sound Studies and Sonic Arts community to build and share sounding works with the public via digital platforms.
Otium is an invitation to think of leisure not as the opposite of production, not as an activity of standardized consumption into which society falls when faced with free-suspended time, but as a matter of thinking-practice, a passage opened from the potential to act, and as an activity that cultivates the desire for becoming of the one who practises it, the desire to raise oneself above oneself.
Otium is a platform for artistic gestures and creative movements of self-shaping through self-discipline and self-practise, a platform for the will of self-production as self-other through techniques of becoming, for poetics to the precise extent that it is a poiesis. It is a space for self-shaping which makes sense as a social sculpture, in which the social is a memory that tends towards oblivion.
———————————
Jan 15, 18:30
Martin Moolhuijsen:
The Sound of a Pupil Shrinking
Online screening
Jan 22, 18:30
Taiga Trigo:
What would a decolonized Lisbon sound like?
Video
Jan 25, 18:30
Aleks Filipiak:
Intro to Metal
Audio Mix
Feb 1-8
DWELL
Ani Samperi and Sean Regan
1-week gallery occupancy with digital work in progress
Feb 12, 18:30
3P'Group
Live-streamed performance
Feb 15, 18:30
David Rimsky-Korsakow:
kurōtadori – die sinfonie der amsel
Musical film
Feb 19, 18:30
Eagle Wu:
ParaS
Live-streamed performance-installation
Feb 21, 18:30
Hyewon Suk:
Waterslide
Live-streamed performance
Feb 26, 18:30
3P'Group: Air Opera – A Breathing Dystopia
Streamed performance
March 5, 18:30
EKHEO:
Voyage Voyage
Live-streamed performance
March 9, 18:00
Kim Wichera:
What is the nature of psychiatric auditory experience?
Online panel discussion
March 12, 18:30
Chung Tat Sham, Hou Lam Wu:
Robots
Online Collective Decision Making Sound Experience
March 13, 18:30
Ani Samperi:
Ø
Short film [cancelled]
* SoundsAbout is a collaboration between the Master's program Sound Studies and Sonic Arts at the University Berlin and the gallery Zwitschermaschine, offering a project space to present and discuss, question and celebrate the work and ideas of our students and their guests for three months every year.